Major Upcoming Vote for two DeFiChain Improvement Proposals and six Community Funding Proposals
The next round of DeFiChain Improvement Proposals and Community Fund Proposals started yesterday, and in this short article, we'll give you all the important information you need to know regarding the voting as well as the most important information of each proposal.
The outcome of all proposals is and has always been entirely in the hands of the community. In the spirit of decentralization, we do hope that you'll accept the DeFiChain Improvement Proposals in order to further incentivize the growth and development of DeFiChain.
Besides the two DFIPs, there are also six CFPs up for vote. The latter ones are independent community projects submitted by the respective teams. More on that can be found below.
Voting for all DFIPs and CFPs will commence on Monday, 19 July 2021 at 23:59:59 UTC, and will end on 26th July 2021 at 23:59:59 UTC.
Before making your decision, we encourage you to discuss your thoughts and ideas about these proposals on Telegram and on GitHub with the wider community. We'd love to hear your feedback, questions or concerns you might have.
Regarding the voting procedure: If you operate your own masternode, then you can find more instruction on Github: https://github.com/DeFiCh/dfips/blob/master/README.md#how-to-vote.
If you are using a service like Cake DeFi and stake more than 20k DFI in the Freezer during the snapshot, then you'll receive an email with unique signatures and will also find instructions on how to cast your vote.
DeFiChain Improvement Proposals (vote of confidence)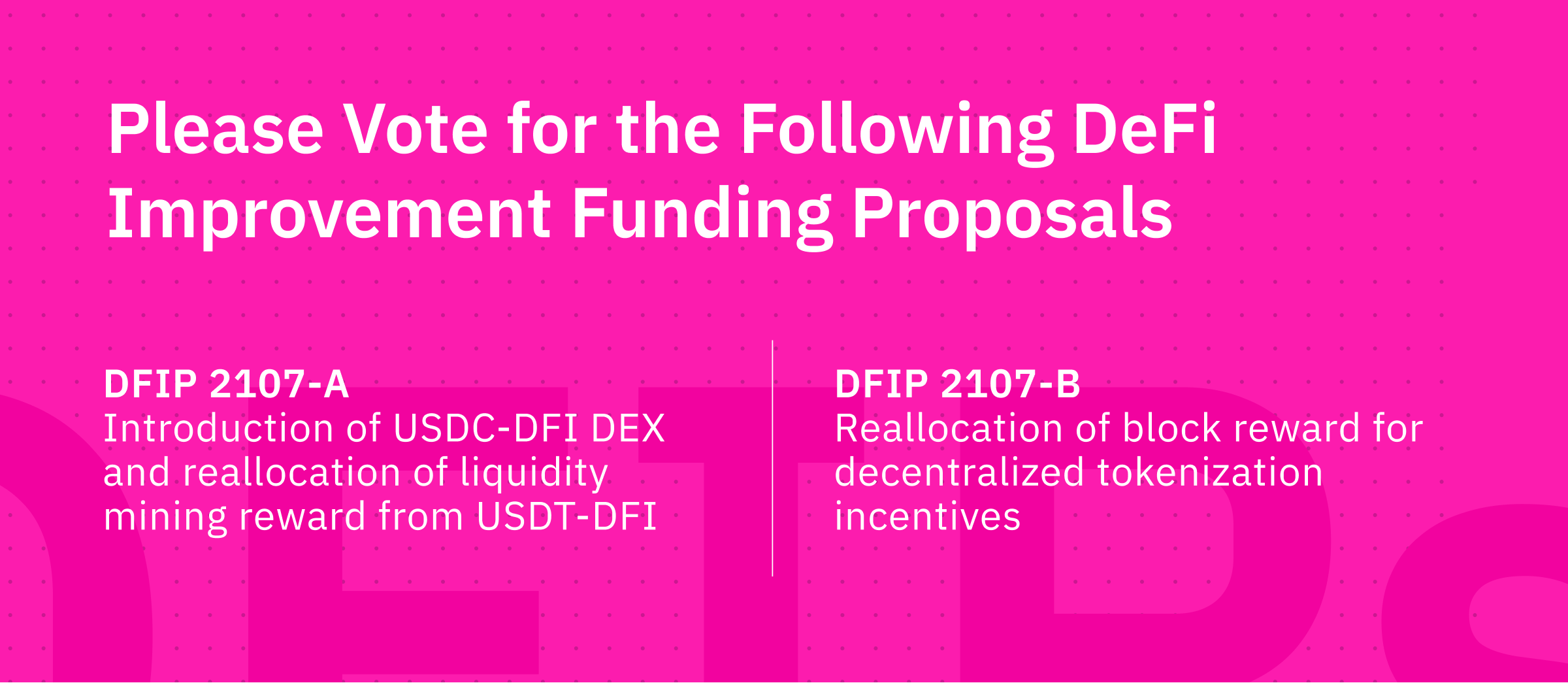 With the trend of USDC picking up around the crypto market and in the industry, DeFiChain users have been requesting that DeFiChain offers USDC DEX.
Proposal:
Introduce backed USDC token and USDC-DFI liquidity pool.
Based on the market capitalization of USDT and USDC today, USDT-DFI and USDC-DFI rewards are to be set at a ratio of 2:1 with the majority for the USDT-DFI pool. To be absolutely clear: USDT-DFI reward post-approval will be 2/3 of what it is today. 1/3 of it will go towards the newly introduced USDC-DFI pool.
Not part of this proposal, but to make it clear, further revisions to be proposed separately when there are major movements on USDC or USDT on the overall crypto market cap.
With the upcoming upgrade to DeFiChain that would introduce loan and decentralized tokenization, incentives would be much needed to encourage use and token generation by DeFiChain users.
Decentralized tokens, such as that of synthetic stocks, commodities, etc., will be generated by community users via loan, and can be added to decentralized exchange (DEX) of DeFiChain to provide liquidity and receive incentive, also commonly known as liquidity mining.
Proposal:
From the earlier DFIP that was touches on DFI emission rate and allocation (DFIP #8: DFI emission rate beyond the first year #18), several components were pre-allocated but unused – currently burned.
Atomic swap is now live, but the incentives are coming directly from Taker and not via block reward. As such, it is unallocated and unused. It is hereby proposed to be allocated for decentralized token liquidity mining.
Futures were initially intended to introduce decentralized tokenization on DeFiChain. While Futures as derivatives will still be brought on as a feature on DeFiChain, it is hereby proposed to be allocated for decentralized token liquidity mining.
Actual decentralized token liquidity mining allocation for each pool pairs will be decided by Ticker Council (DFIP 2106-02: Interim ticker council establishment for asset tokenization #41).
For clarity, based on the allocation table:
It is proposed that 24.68% of block reward be allocated to decentralized token liquidity mining.
Note that existing cryptocurrency liquidity mining allocation is not affected by this proposal.

Community Funding Proposals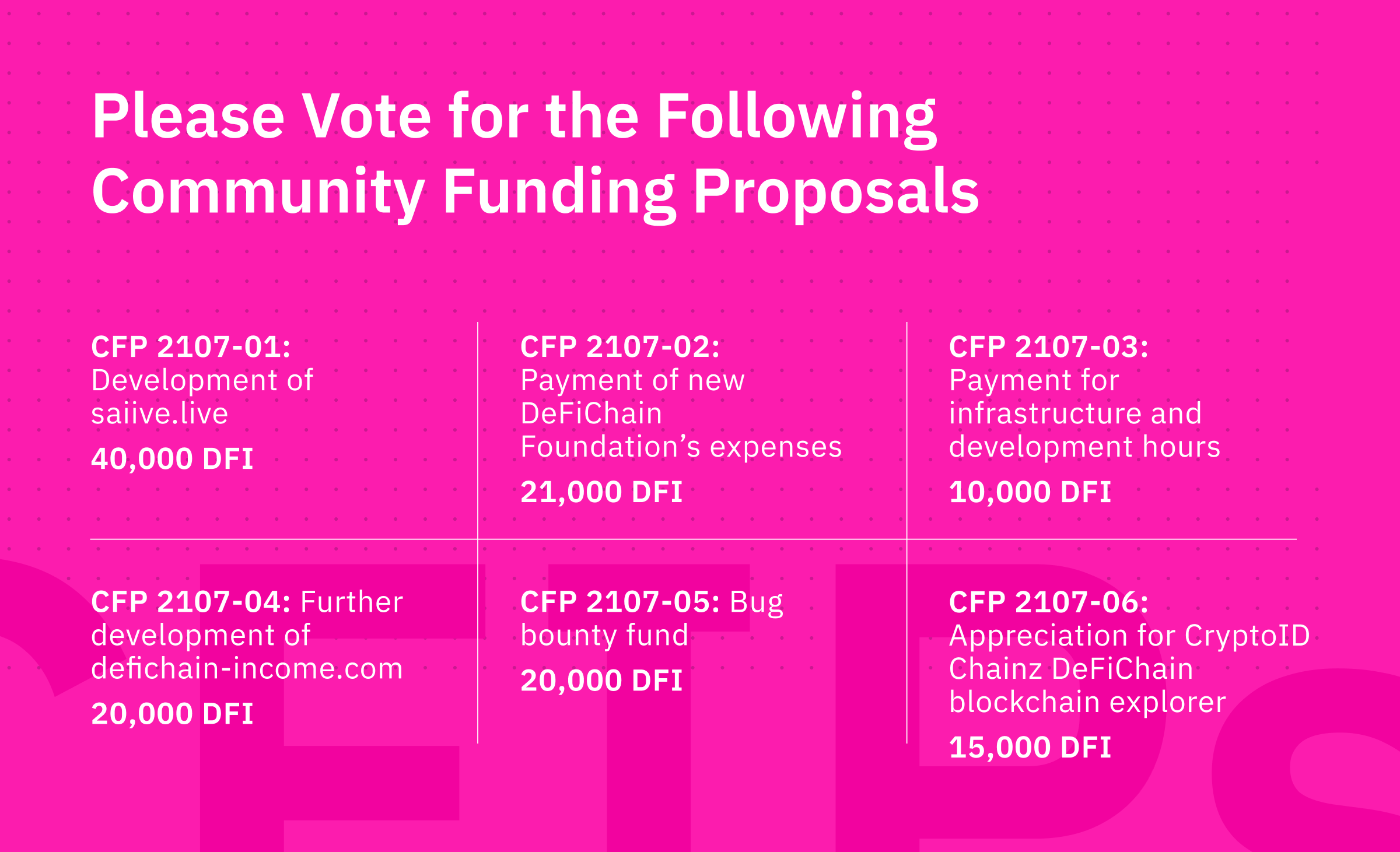 From the community members Dominik and Patrik:
Dominik (Telegram: @dpfaffenbauer) and Patrik (Telegram: @p3root) are actively developing a non custodial light wallet for iOS, Android, Mac, Windows and Linux. (https://github.com/saiive).
saiive.live is a non-custodial light wallet application that runs on iOS, Android, Windows, Mac and Linux. In its current shape, it is fully functional and already working.
The goal of this project is not just to provide a mobile application to the DefiChain Ecosystem, it is much more. It includes many necessary components to further decentralize DeFiChain and move away from the Foundation and Cake, enhancing security and enabling possible future projects. Our application solves one of the main problems running the original app on desktop.
How will the funds be spent?
Mostly for infrastructure and employees.
Even if we were against the 5/10y masternode locking - we will create at least 1 masternode and lock the funds for 5 years to show long-term commitment to the project. With the rewards from the masternodes we will pay the infrastructure and employee costs.
From the community member Daniel Zirkel (aka DZ):
As the communicator between the Foundation and the DefiChain community I would like to make a CFP so that we can pay for the Foundation's expenses.
I have been provided with the following numbers by the law firm:
Incorporation and maintenance of company registration by law firm for 2021 and 2022: $6,000
Office administration services for 2021 and 2022: $40,800
The total sum of 46,800 USD will require 21,000 DFI.
As these DFI have to be converted into USD to pay for the above costs, we have factored in a small amount of volatility protection. Any remaining sums will be used for Foundation's expenses.
From the community member Adrian Schnell:
DFI Signal takes a look at the blockchain and informs the user on events based on his or her interests (finished and planned features below).
Until now, all services are restricted to masternode operators. This will change in the near future. Masternode operators are informed on minted blocks by their nodes, receive statistical information (like current state, minted value over all time with all supported prices via DEX, ...), are able to sync their masternodes with the Masternode Monitor (add/remove masternodes is supported yet) and push notifications on ENABLED, PRE_RESIGNED and RESIGNED masternodes.
How will the funds be spent?
To keep the value in the blockchain, I plan to stake the complete fund (minus german taxes, 10y freezed) to pay the recurring costs and keep up the dev work.
Recurring infrastructure costs: for domain & servers. To be more independent, I plan to store much more blockchain data in my own database and decrease the blockchain lookups from 5 to 1 minute – therefore a more powerful server structure is needed (database / slave database, load balancer, 1..n worker server/s). Only this way, this service can scale up and is able to process more than 100 users (currently 59 users are active).
From the community member Igor Shelkovenkov:
The goal of the CFP is to secure longer-term funding for continued defichain-income work and its associated costs. For this purpose, a masternode will be created with the 20000 DFI and managed via mydefichain service.
This means that these DFI will not be sold or exchanged.
The rewards will then be used to cover the increasing infrastructure costs and to pay a developer who will help me 10 hours a week in design but also in feature development.
How will the funds be spent?
Infrastructure costs for historical Data and Backend of the website
Mongo DB M20 Cluster $0.20/hr (https://www.mongodb.com/de-de/pricing)
Mongo DB Network Traffic (AWS has high prices for data transfer) $0.09 per GB, last month 554 GB transfer and will be more with next features
Hetzner Cloud Server for Node Server and Website
1 Part time developer
Approximately 10 hours a week at 30€ - 40€ range per hour

From the community member & early developer U-Zyn Chua:
DeFiChain runs a bug bounty program to reward security researchers for responsible disclosures. This is beyond the first 5,000 DFI payout which was made before this CFP.
Further CFPs may be requested for top up of bug bounty funds when it runs low.
State of fund from the last round:
Last round with (#30) , 10 000 DFI requested and approved.
Balance: 2 000 DFI
Address: dV1kT4qQpVS6dV354HMhqQmpS5E2f6KVnU
Payout of 8 000 DFI was made and disclosed.
How will the funds be spent?
The fund will not be spent by me, the requester. The fund will be set aside for bug bounty reward. A transparent and public payout logs will be kept at https://defichain.com/bug-bounty/.

From U-Zyn Chua on behalf of DeFiChain community for CryptoID team:
CryptoID team has been running Chainz blockchain explorer for DeFiChain for several months now over at https://chainz.cryptoid.info/dfi/
DeFiChain blockchain node involves upgrades of every 2 months or so and the team has been really fast in keeping their nodes up to date to provide seamless blockchain explorer for DeFiChain.
Over time, the community has also relied more and more now on CryptoID explorer, even more so now over the dated Bitcore-based explorer.
This CFP is to show the team at CryptoID an appreciation for their work in providing us with a reliable blockchain explorer.
Note: CryptoID team did not ask for this CFP. I am making a request on behalf of the DeFiChain community to show our appreciation to them.
How will the funds be spent?
The fund will not be spent by me, the requester. The fund is meant for the CryptoID team as a token of appreciation from the DeFiChain community.