DeFiChain's First Move to Become an Interoperable DeFi Powerhouse
In the following article, You'll learn about:
DeFiChain's introduction of an ERC-20 standard token of DFI
How to use Uniswap to buy and transfer DFI back to DeFiChain's App Wallet

Bridging Native DeFi with ERC-20
DeFiChain is constantly looking for ways to facilitate improved interoperability of its native DFI token, and to increase its exposure to a wider audience of retail and institutional investors. As a result, DeFiChain created an ERC-20 standard token of DFI that will be available for trading on Uniswap as DFI/ETH and DFI/USDT trading pairs from today.
As of 3 June 2022, a total of 1,650,000 ERC-20 DFI tokens have been minted. The ERC20 contract address is: 0X8Fc8F8269Ebca376D046Ce292Dc7Eac40C8D358A. The backing address on DefiChain is: https://defiscan.live/address/dZFYejknFdHMHNfHMNQAtwihzvq7DkzV49
The new ERC-20 token will help attract fresh liquidity from outside the DeFiChain ecosystem as well as bridge the interoperability of both ecosystems, allowing more Ethereum-based users to experience the real value of Native DeFi on DeFiChain.
Uniswap users will be able to trade DFI on the following three official DeFiChain Uniswap pools below. Do note that any other pools are not supported and funded by DeFiChain and you might risk losing your funds.
To bring Native DeFi to Ethereum, DFI coins have to be wrapped into an ERC-20 DFI token. This process is done automatically in the background, making it easy and intuitive for the user to withdraw and deposit DFI to/from the Ethereum ecosystem.
To better understand how DFI can be transferred around the two ecosystems, we would like to demonstrate it by walking you through an Uniswap to DeFiChain transfer.
Transfer of DFI From Uniswap to DeFiChain
In the first step, you'd have to buy the DFI coins on Uniswap. For this purpose you should go directly to the Uniswap trading site here. You should then see the following page (as shown in Figure 1).
Using the button in the upper right corner you can connect your i.e. Metamask wallet to Uniswap. After you have successfully done that, you can jump into the fun part, and start buying some DFI. Then simply select from either ETH or USDT — which you can use to purchase your DFI.
Next, you have to choose which coin you'd like to buy by clicking on the blue 'Choose Token' button. Since DFI has only recently been added to Uniswap, the coin doesn't yet automatically show up in the list. Hence, you have to specify the coin by entering its unique contract address (see Figure 2): 0x8fc8f8269ebca376d046ce292dc7eac40c8d358a.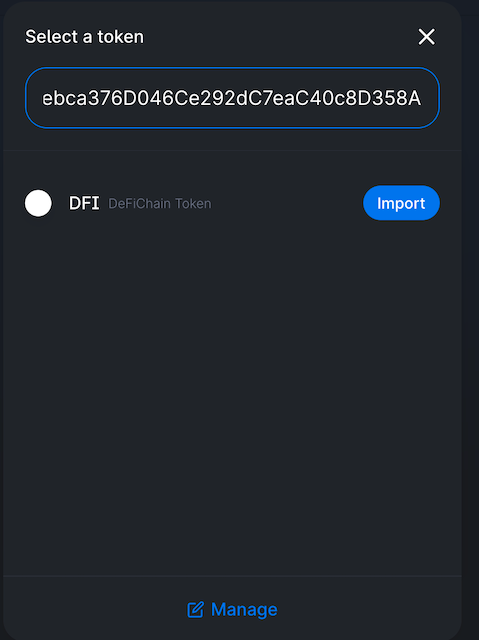 Next, you have to click on the blue 'Import' button and confirm that you trade at your own risk (see Figure 3).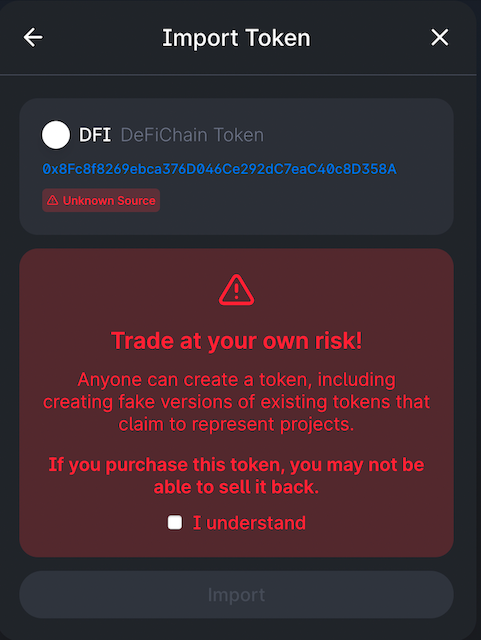 In the last step, you can now buy DFI and confirm the purchase with your Metamask wallet (see Figure 4).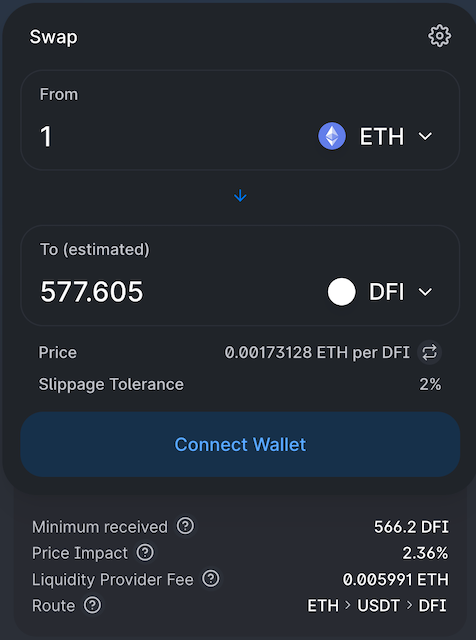 Unlike with DeFiChain, you have to be prepared to pay high gas fees on the Ethereum blockchain. In the example below (Figure 5), you can see that the gas fees alone are US$ 50. That's just for swapping ETH into DFI; on top of that you also have to subsequently pay gas fees for the transfer to Cake DeFi.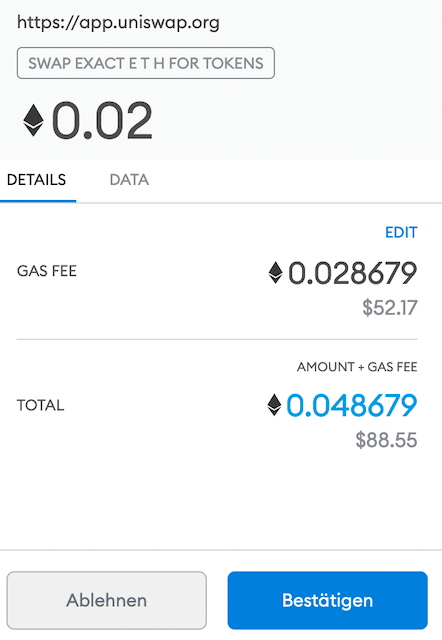 In order to send your newly purchased DFI into the DeFiChain ecosystem, respectively onto your DeFiChain Wallet App, you'll have to go via Cake DeFi. As such, you have to log into your Cake DeFi account and go into your DeFiChain wallet. There you'll be presented with two network options: DeFiChain or Ethereum. Please choose the address which can be found under the Ethereum network and copy it into your clipboard (see Figure 6).
Lastly, you'll have to go back to your Metamask wallet and send the DFI coins to the address saved to your clipboard. Your previously purchased DFIs are now in your Metamask Wallet - you just can't see them yet.
To change this, please scroll down in your coin list, directly in your Metamask Wallet and click the "Add Token" button and then the "Custom" button. After that you only have to enter the contract address already mentioned above (see figure 7): 0x8fc8f8269ebca376d046ce292dc7eac40c8d358a.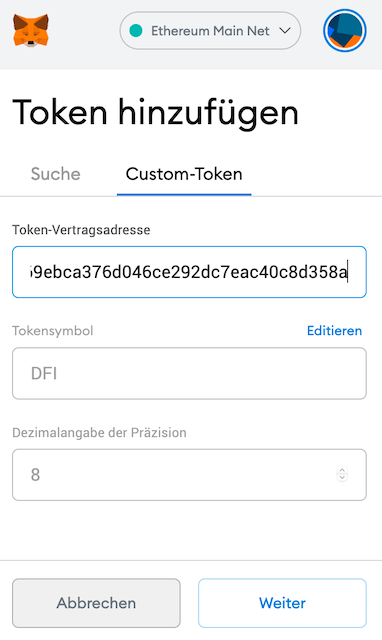 Once again you'll have to pay gas fees, but ultimately your DFI should then be on its way to Cake DeFi. From there it's simple to send them to any other DFI address by choosing the DeFiChain network button in your DeFiChain wallet.
If you want to experience low transaction fees and high security DeFi transactions, then don't hesitate and download the latest version of DeFiChain's Wallet App here.

For questions, feedback and discussions please join the official DeFiChain Reddit forum.