DeFiChain: The Most Exciting Altcoin for 2021?
DeFiChain was the best performing new Blockchain of 2020. Since its launch last May, the DFI coin increased by 1500% - but what is the hype all about, and will it continue to perform this well in 2021?

DeFiChain increased 15x in 2020 - but why?
The value DeFiChain creates
There are 6 main use cases of DeFi (Decentralized Finance).
Creation of value
Transfer of value
Lending of value
Exchanging of value
Investing in value
Predicting value
All, of course, in a decentralized and trustless manner.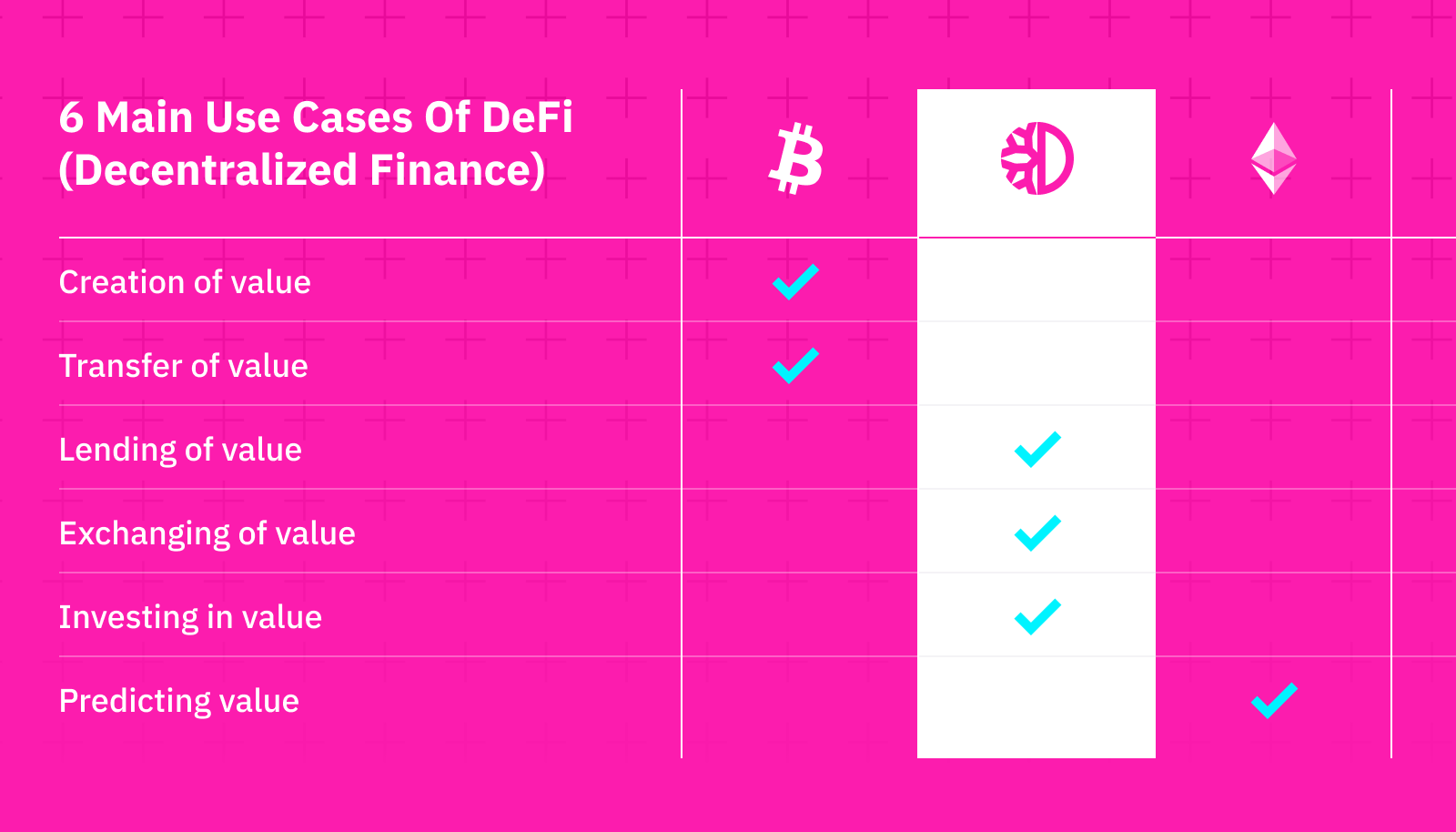 Now, Bitcoin serves two of these purposes: The creation of value and the transfer of value.
There is no more reputable, better suited cryptocurrency for these two functions.
But what about the other 4 use cases?
Ethereum and some other blockchains are good candidates for the prediction of value via so-called "smart contracts". But what about the rest?
DeFiChain solves the other 3: Decentralized lending, exchanging, and investing via a decentralized exchange that offers tokenized assets and lending functionality.
What makes DeFiChain different from other blockchains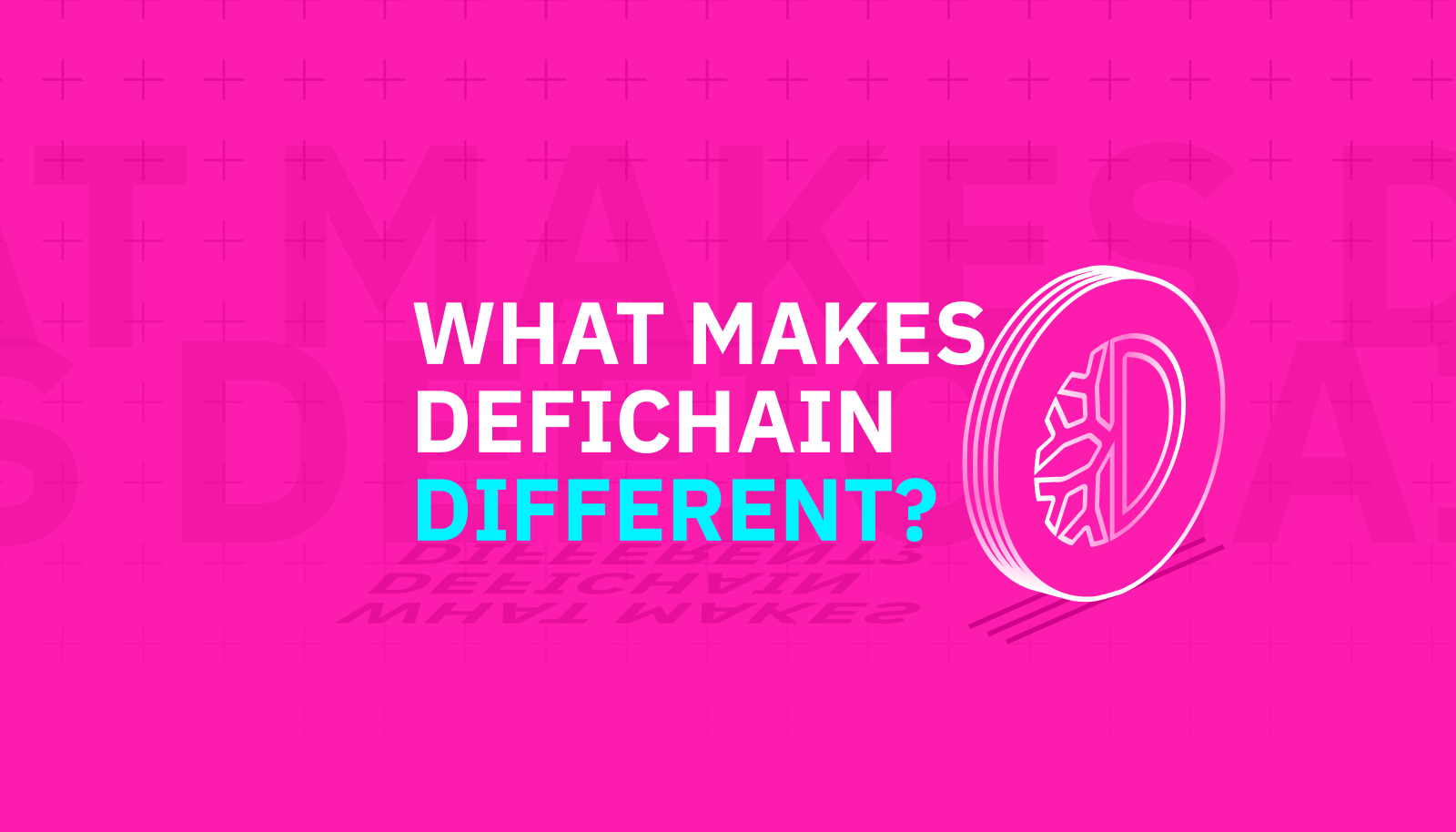 DeFiChain (DFI) takes a fundamentally different approach to solving DeFi than other blockchains.
It is deliberately devised to be a non-Turing-complete blockchain, designed specifically for the decentralized finance (DeFi) industry. DeFi provides full functionality for this specific segment of the DLT community, sacrificing other types of functionality for simplicity, rapid throughput, and security.
DFI was never sold via an ICO; instead everything was and is distributed via Staking. This means that the price was never set by DeFiChain - it is completely independent and a result of demand and supply.
The MainNet has been live since the day of the Bitcoin halving in May 2020, and has been running smoothly ever since. This means that despite DeFiChain being less than half a year old, there is no waiting for a MainNet, Staking or anything like that, everything is already live and working right now!
Since DeFiChain is built on top of Bitcoin, which by far is the No.1 coin in the industry, it benefits from Bitcoins extremely strong security and high hash power.
Compared to ETH or even BTC, DeFiChain is considerably lower in fees and super fast!
Being a non-Turing-complete blockchain makes DeFiChain drastically less prone to errors, which is incredibly important for any financial transactions. Just take a look at a small handful of the many projects that suffered due to bugs — YAMv1, LendF.me, Andre Cronje's Eminence ...
This also means there will be no games or casinos that clog the system and jack up gas prices, like Ethereum.
In short, DeFiChain combines the best of two worlds: Bitcoin's high security and hash power, as well as live and working Proof of Stake, making extremely fast and inexpensive transactions possible (Scalability).
Why has the coin been performing so incredibly well?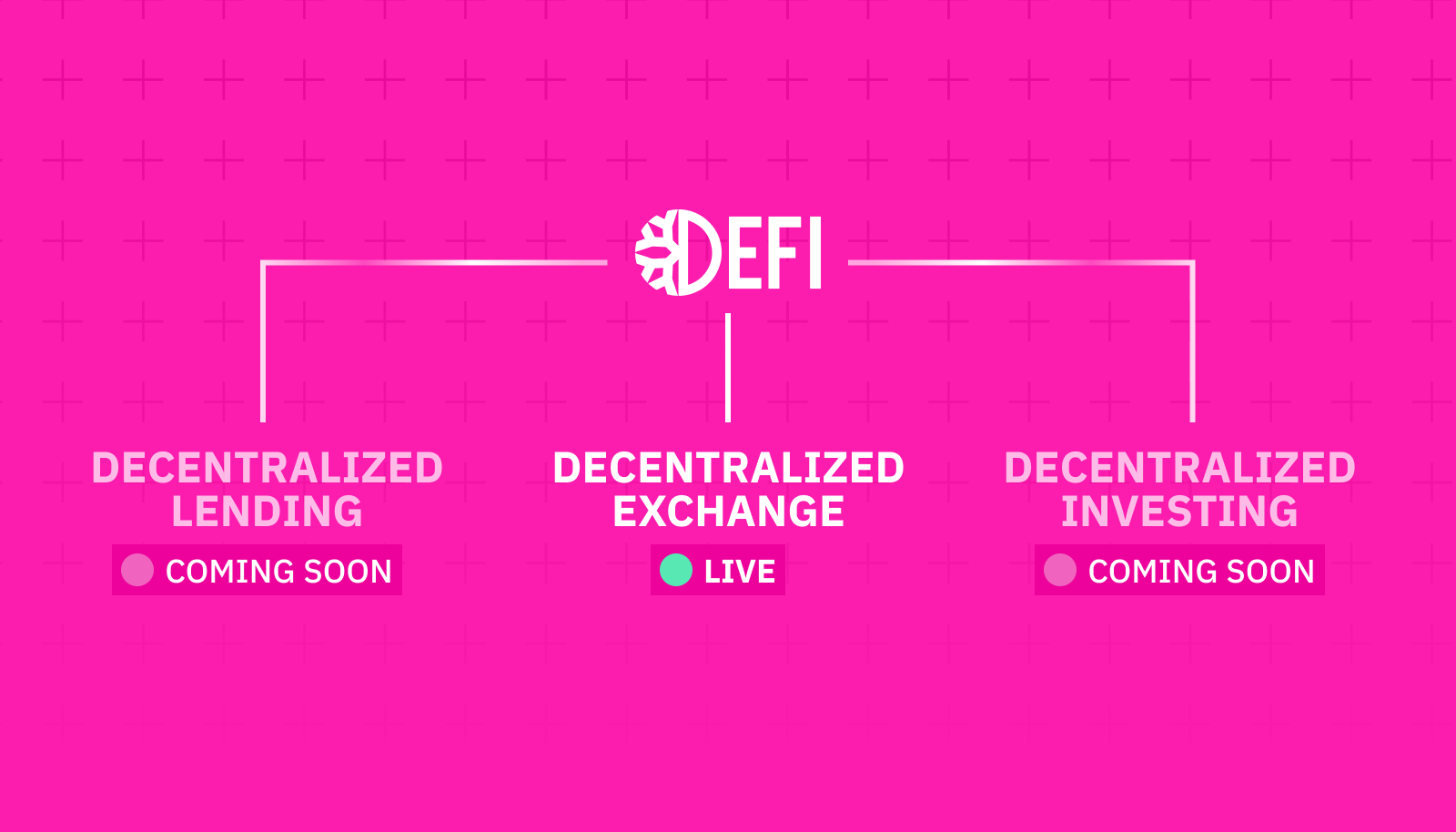 The most important factor in the recent spike of the DFI coin is the fact that DeFiChain, unlike most other blockchains, has a live and working product right now - the decentralized exchange!
After months of development, one of the three DeFi use cases - the decentralized exchange - launched in November 2020.
Because everything is built in a way that gives the DFI coin fundamental value and drives demand, the value of DFI has been increasing rapidly with more people using the decentralized exchange.
The most interesting aspect in all of this:
DeFiChain is such a young blockchain and there is still so much yet to come. The DFI price is nowhere near to where it could be.
The decentralized exchange is still to acquire mass adoption (completely normal in the first few months after launch), but most importantly the two other DeFi functionalities - decentralized lending and investing (tokenization) - are yet to come, this year, in 2021!
What would you do if you learned about Bitcoin when it was still below $100?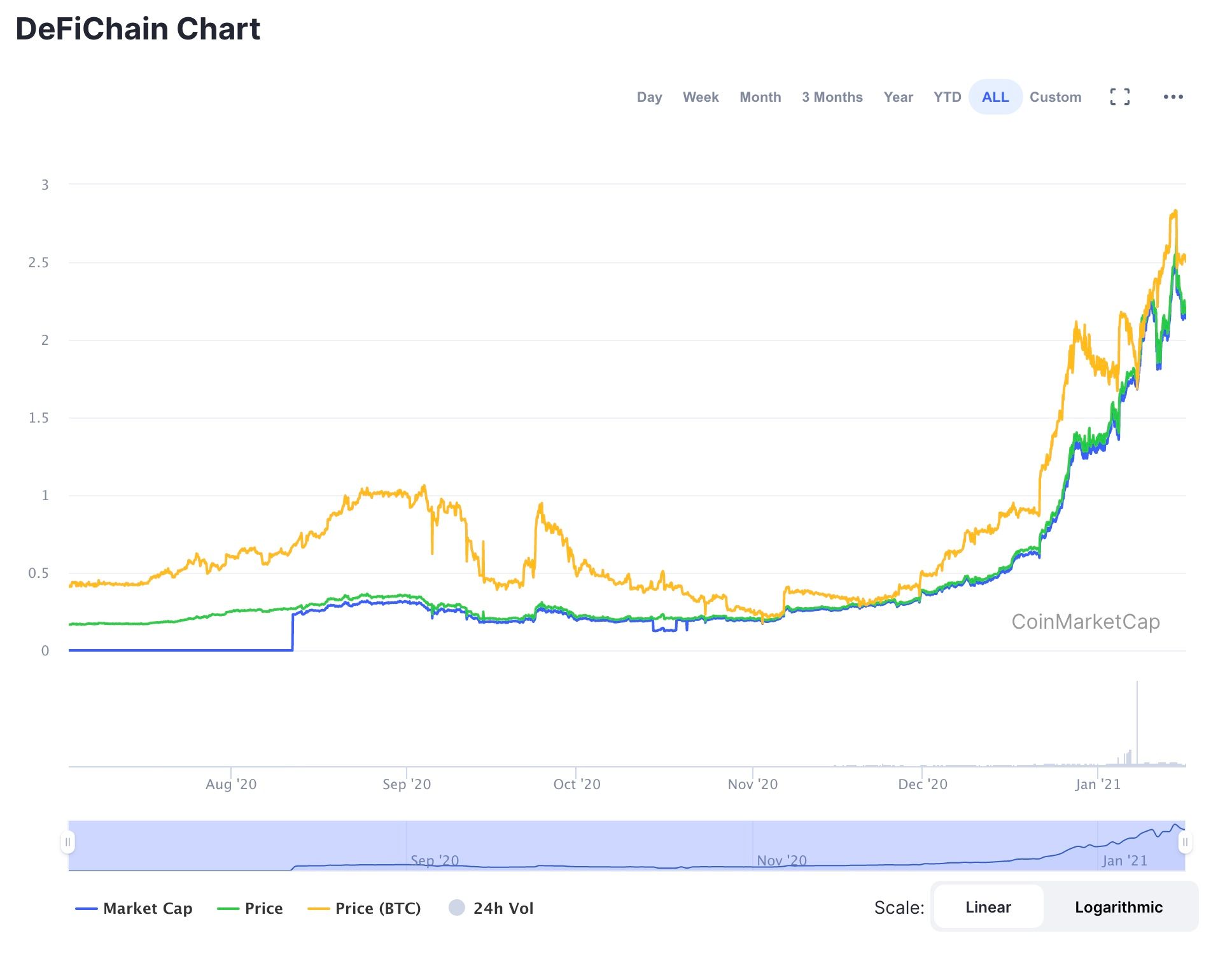 Now is your chance to join an incredible community and contribute to an amazing, world-changing open-source blockchain project: whether as a small investor or a large group of developers actively working on the project.
If you are interested in buying the DFI Coin, the recommended way to do so is on an exchange like Bittrex. Should you be unsure how exactly this works, we have a whole article explaining how to buy DFI here.
And if you want to contribute as a developer, you can find the open-source code on Github here.
Lastly, if you have any questions or just want to be part of this awesome community, don't forget to join the official Telegram group with over 10,000 active members already!