Where and How to buy DFI (DeFiChain)
Buying DFI is very simple.
There are a variety of ways that you can choose to buy DFI:
1) Buy DFI on one of the many centralized exchanges where DFI is currently traded - for example, Bittrex, KuCoin, or if you prefer mobile apps DFX Swiss.
2) Buy DFI directly through DeFiChain's trusted partner Cake DeFi, where you also get a nice annual staking return of around 100% for the coins. Please note that Cake DeFi sells DFI at a 4% premium.
3) Buy DFI through DeFiChain's decentralized exchange - the advantage, but at the same time the disadvantage, is that you alone manage your coins and you also can't ask customer support in case of problems.
In the following, all 3 options will be presented in detail.

1) How to buy DFI on a centralized exchange: Example Bittrex
Registering an account with Bittrex is quite simple and takes less than 5-10 minutes. Click here for detailed instructions on how to register & verify your Bittrex account.
2. Deposit the cryptocurrencies you'd like to buy DFI with
Now that you are logged into Bittrex, click on "Holdings". This will take you to your wallet where you can deposit cryptocurrencies like BTC or USDT. You can even deposit with your credit/debit card.
3. Buy DFI on Bittrex using BTC or USDT
Currently, the two available trading pairs to buy DFI on Bittrex are BTC-DFI and USDT-DFI.
Click here to buy DFI on Bittrex with Bitcoin
Click here to buy DFI on Bittrex with Tether
All you have to do is enter the price and amount you want to buy, place your order and voilà, you just bought your first DFI on Bittrex!
It works the same way on all other centralized exchanges where DFI is currently listed. These are:
DFX.swiss works a little different, since here you are interacting with a mobile app and exchange specifically made for decentralized finance. You can find detailed information on how to use it here.
---
2) How to buy DFI on Cake DeFi
Signing up at Cake DeFi is fairly easy. All you need to do is click on this link, enter your information and click "Register"!
Cake DeFi is currently running a promotion, where all new sign-ups receive US$ 20 with a minimum deposit of US$ 50.
2. Confirm your email address
After signing up, you'll receive a confirmation email from Cake DeFi with the subject line "[Cake] Verify your email". Open the email and click on the big purple button that says "VERIFY EMAIL ADDRESS".
Can't find the email? Don't forget to check your spam folder.
Still can't find it? Feel free to contact Cake's support team.
As with any financial service, you need to verify your identity. Cake DeFi makes it very easy to go through this process:
1. Do the Lite Tier verification: click on the purple "Verify" button, and enter your general information: name, mobile number, your country, and your birthday.
2. Do the Full Tier verification: click on the purple "Verify" button, enter your name as per your passport again and upload a proof of identity.  
Anything unclear? You can find detailed step-by-step instructions on how to complete your verification by clicking here.
Open the wallet, click on "Deposit" and send the desired amount of BTC or ETH to your deposit address.
You can also use any leftover BTC and ETH to receive up to 8% cashflow on them, so we recommend you rather deposit more than less :-)
Don't have any BTC or ETH? No problem! :-) You can buy Bitcoin or Ether directly via Cake DeFi - just click on "Buy BTC" in the menu, and you will be presented with a lot of different deposit methods for various countries and currencies!
Last step, then you have your precious DFI in your hands! Now after you have deposited your crypto, go to the https://app.cakedefi.com homepage, scroll down and click on "Buy" right under the DFI coin logo, then enter the amount you want to buy, and click "Confirm"!
All done! You just successfully bought DFI on Cake.
What's next? You can start staking your DFI for a mouth watering 90% APY,  
and you can even get up to 8% cashflow on cryptocurrencies like Bitcoin using Cake Lapis!
---
3) How to buy DFI through DeFiChain's decentralized exchange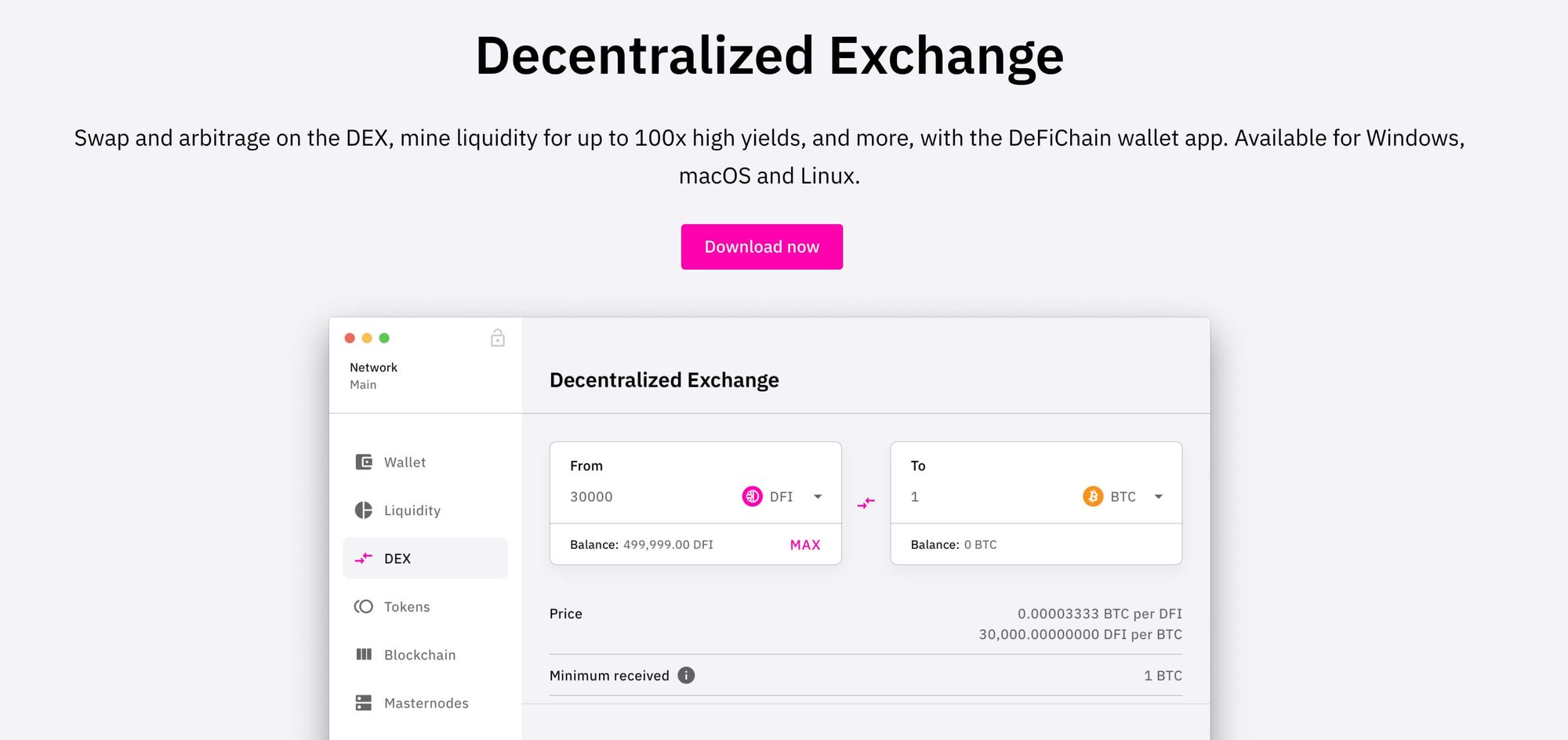 First, you need to download the DeFiChain Wallet. You do this easily via the official DeFiChain website and choose the desktop version according to your operating system.
Now you will be guided through the installation process, much like with any other wallet. Here you will also find a step-by-step guide for the installation of the DeFiChain Wallet.
2. Deposit the cryptocurrencies you want to buy DFI with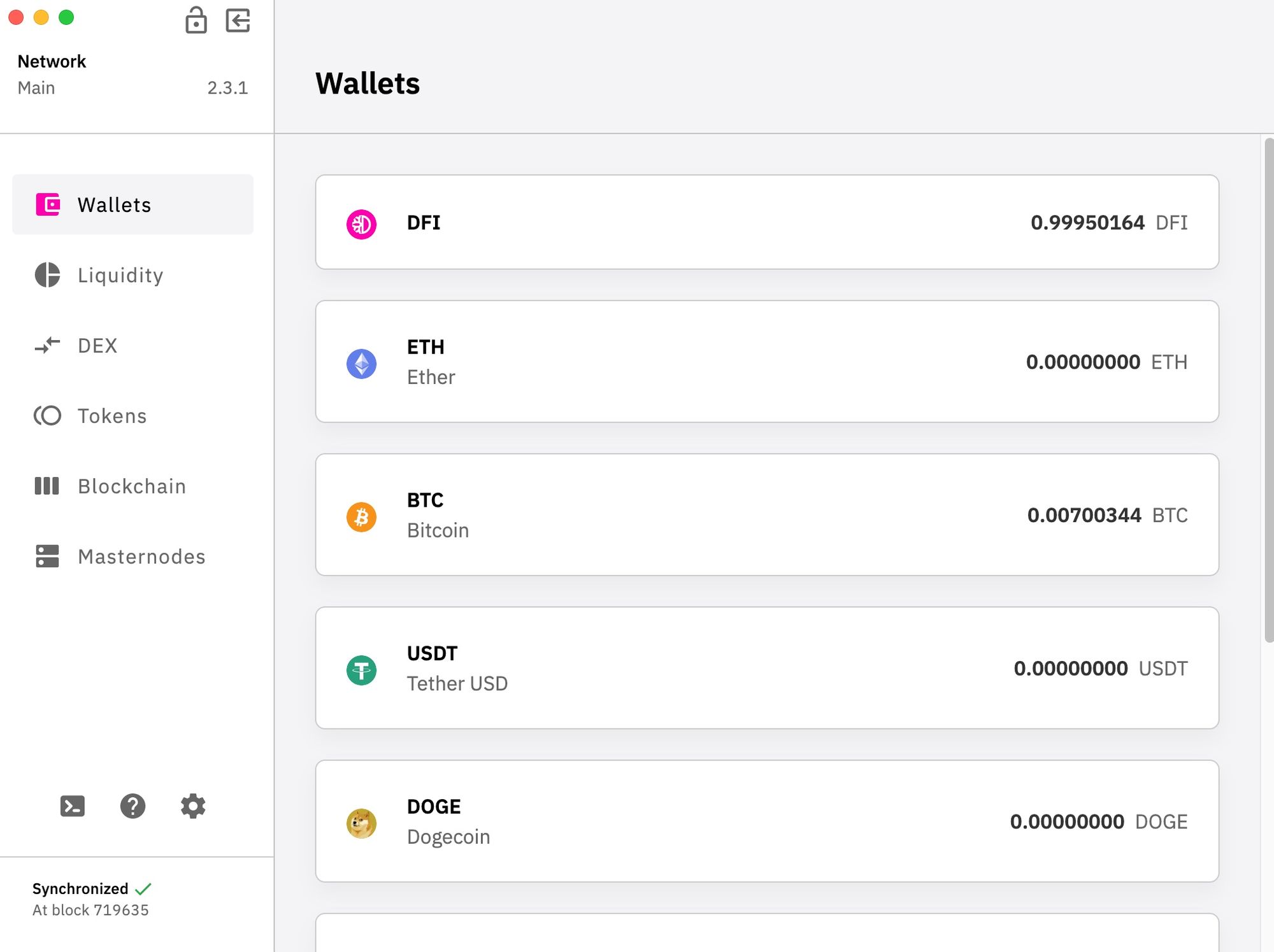 Soon it will be possible to deposit bitcoin into the DEX through Atomic Swaps. This means that you will then be able to deposit bitcoin in a completely decentralized way without a third party!
Until then, we recommend you to use our trusted partner Cake DeFi to transfer your cryptocurrencies from there to the DeFiChain blockchain.
So register your Cake DeFi account as described above, deposit your cryptocurrencies, and then withdraw them to your wallet via the DeFiChain network: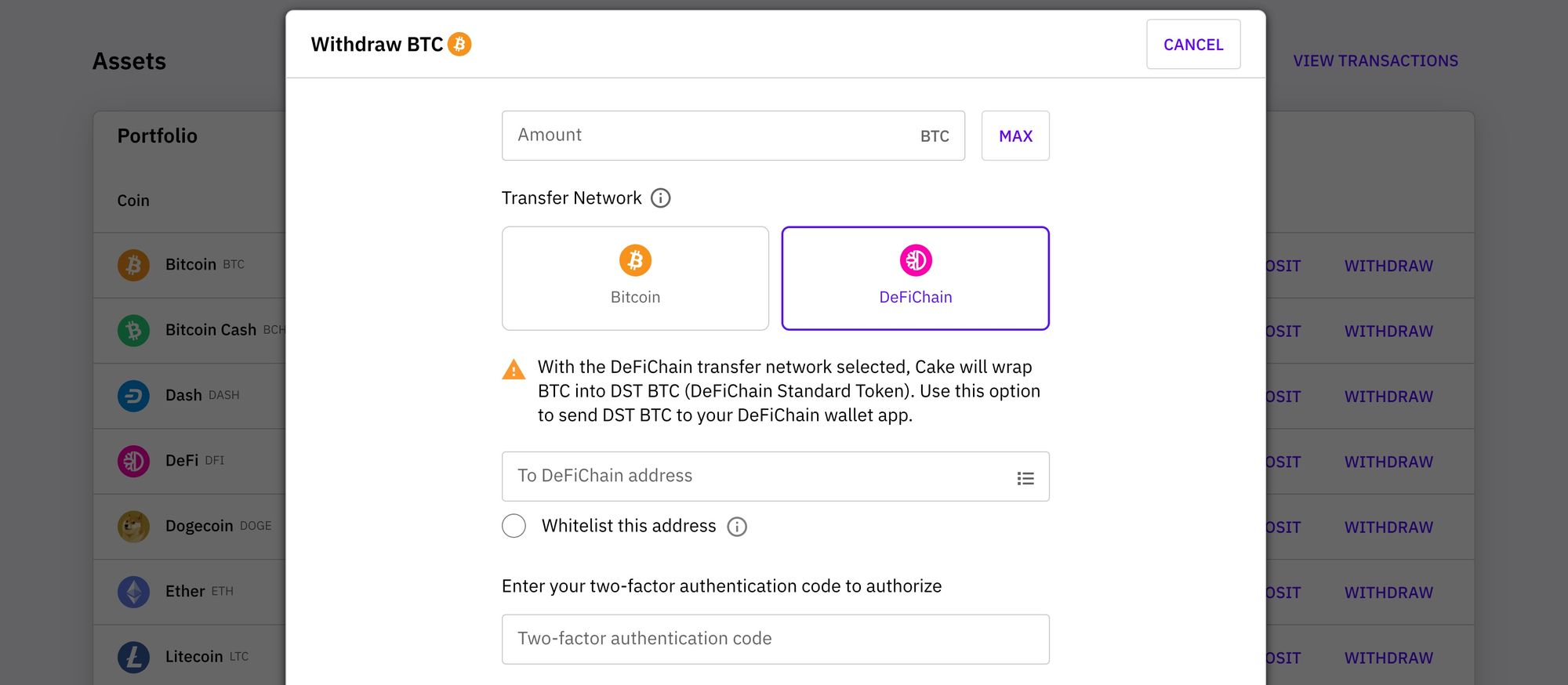 You can find your DeFiChain address by opening your wallet and clicking on "Receive" in the upper right corner: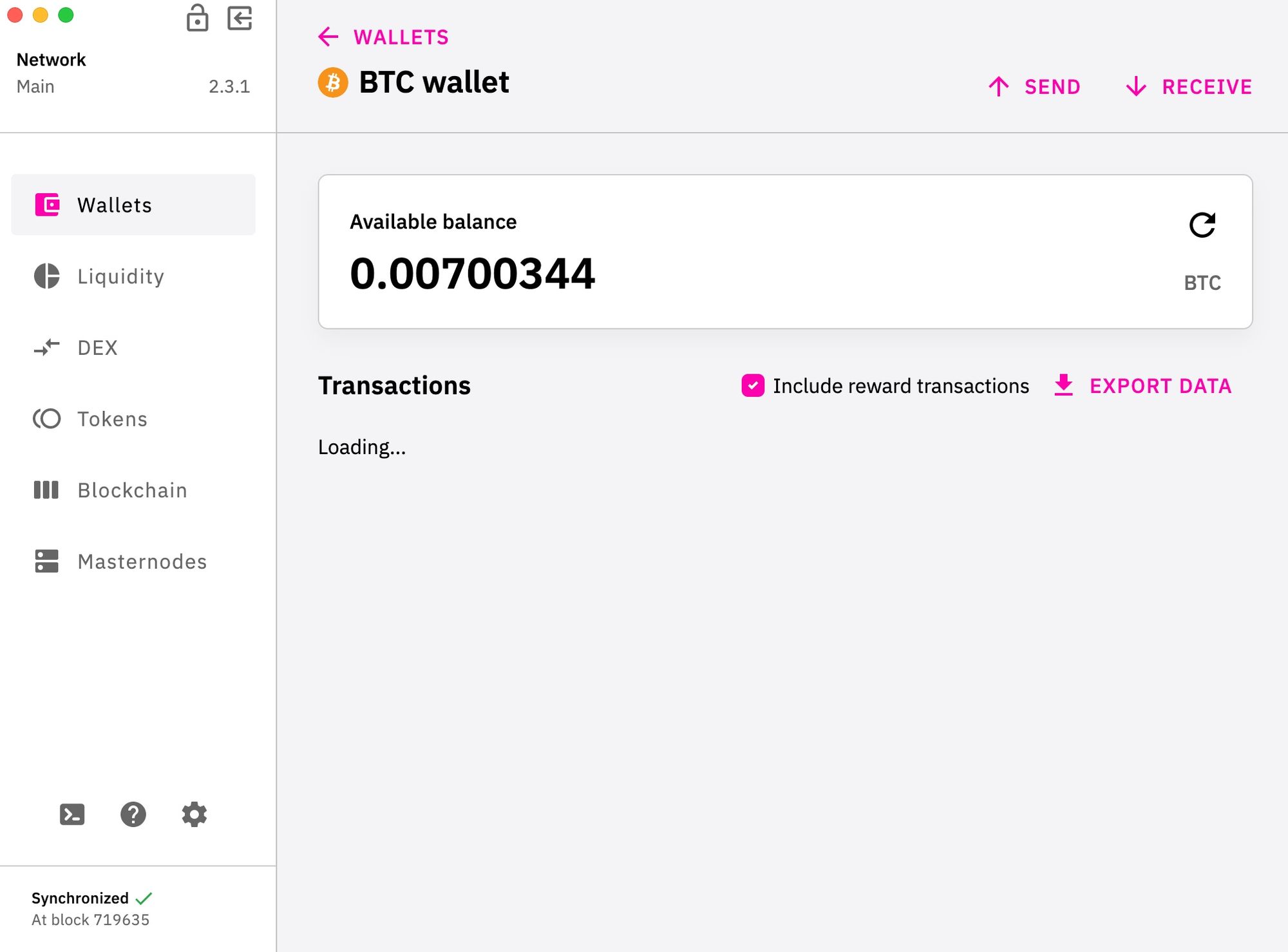 Once you confirm the withdrawal of your cryptocurrencies from Cake to your DeFiChain wallet, it doesn't take long until you can see them in your DeFiChain wallet.
3. Swap your cryptocurrencies in a decentralized way for DFI: Example Bitcoin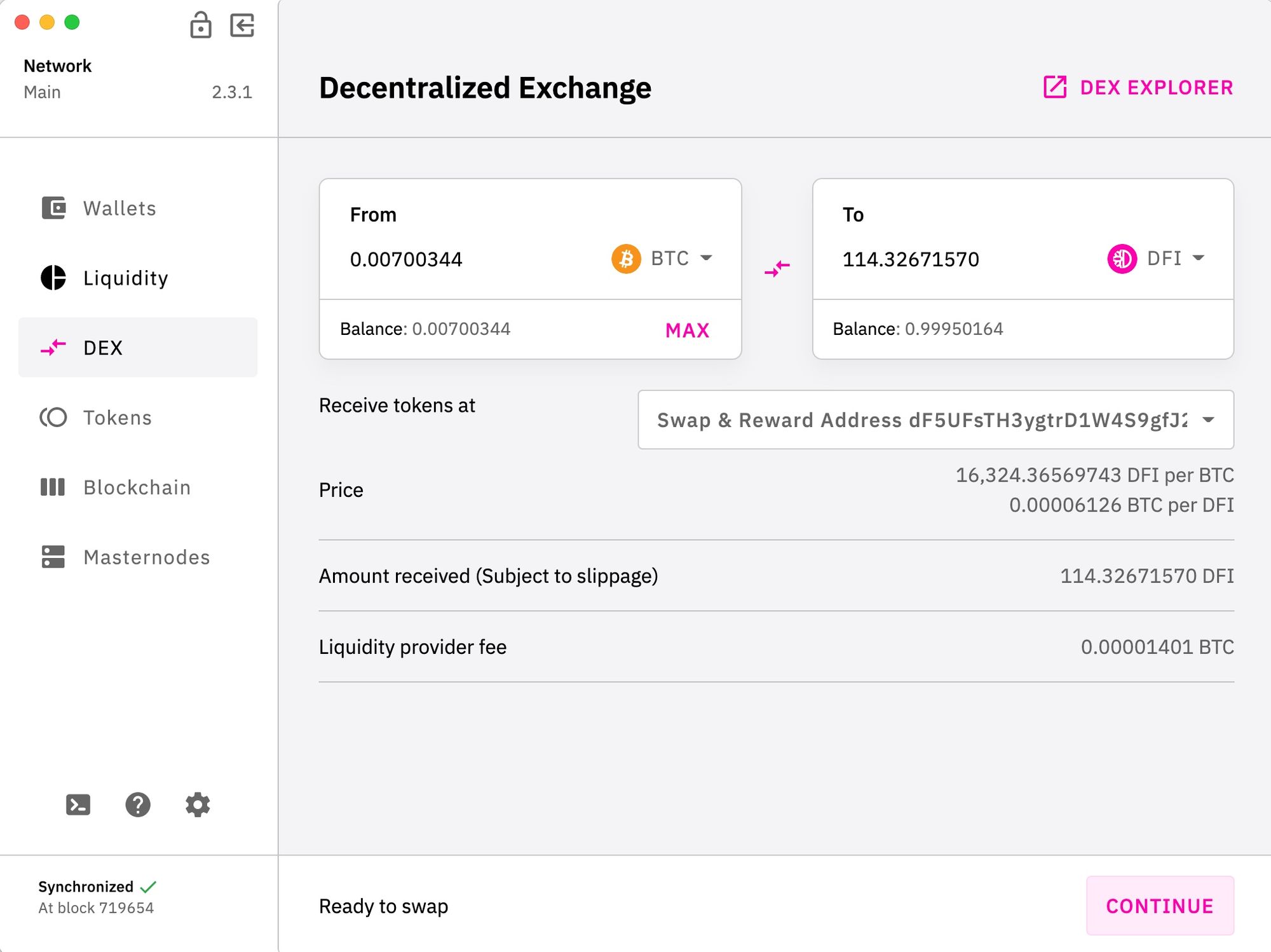 Next, in your wallet, select "DEX" from the menu on the left.
In the left column you select the cryptocurrency you want to sell and on the right the one you want to buy. So in this example, I'm exchanging Bitcoin on the left for DFI on the right.
You will now see the current price - after a quick check, just click the button at the bottom right and voilá, you just bought DFI in a decentralized manner!
---
What's Next
Put your cryptocurrencies to work.