Weekly Update – Roadmap And Uniswap Pool Update
Hi DeFiChain Community,
Welcome to this week's update, where we bring you all the latest news from the DeFiChain ecosystem. From roadmap to liquidity mining updates and notable mentions, there's plenty to unpack. So, let's get started!
DeFiChain 2023: Roadmap
Last week marked a major milestone as we disclosed the roadmap for DeFiChain for the second half of 2023. Designed with our community's needs and market trends in mind, the roadmap outlines our strategies and goals for the forthcoming period. You can find a detailed overview in the diagram below. We look forward to your feedback and your continued support on this journey.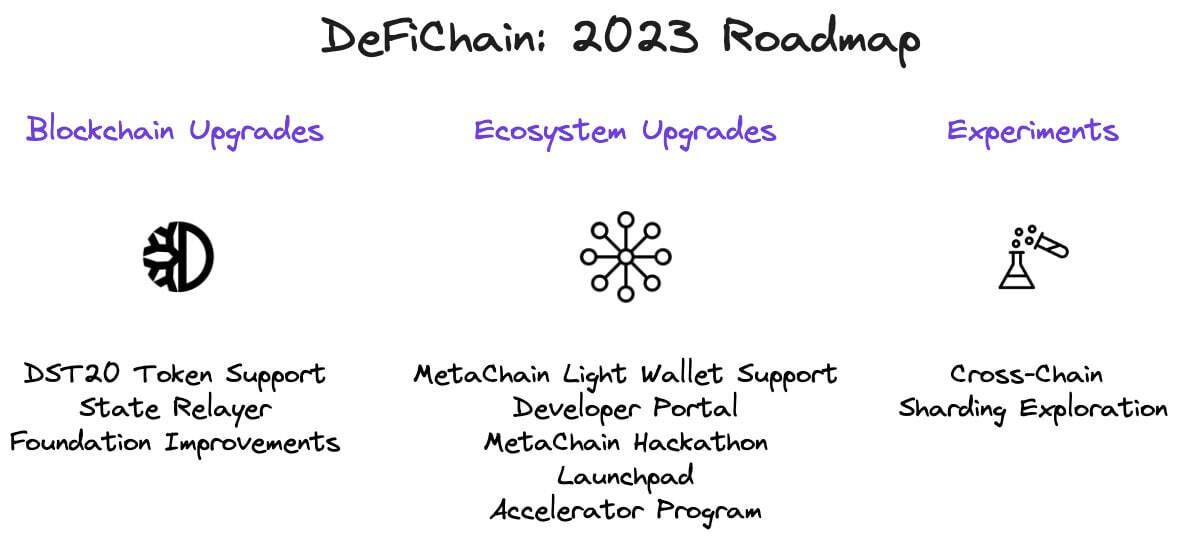 Uniswap Pool Update
Let's talk about liquidity mining. Last year, our community voted to allocate 1,000,000 DFI to incentivize liquidity mining for the DFI-ETH, DFI-USDT, and DFI-USDC pairs on Uniswap. Please note that rewards for this will stop accruing shortly. You can claim your rewards anytime afterwards by accessing this link or by directly visiting the three contracts via Etherscan.
DeFiChain News Show
In the latest episode of the DeFiChain News Show, we delve into the positive impact of MetaChain on DeFiChain, DFI, and DUSD! Don't miss this deep dive into the recent developments within our community. Catch the full episode here:
Notable Mentions
In other exciting news, Vanilla Labs has announced the launch of VanillaRamp - a new solution to facilitate seamless on/off-ramping into DeFiChain!
Furthermore, JellyChat has received a fresh update with numerous performance enhancements. Find out more about these improvements here.
Finally, mark your calendars for the 18th of July as the Jellyverse team is planning an Ask Me Anything (AMA) session. Don't miss this chance to dive deep into the world of Jellyverse and interact directly with the team!
Thank you for your constant support and enthusiasm. Let's continue to navigate the exciting world of decentralized finance together. Stay tuned for next week's update!