Weekly Update – MetaChain Update, Special DFIPs, XCHF And More
We hope you're having an exciting week so far. We're back with our weekly digest to keep you updated on all the latest happenings in the DeFiChain ecosystem. Let's dive in!
Latest MetaChain Updates
The Beta 11 of Changi TestNet made its debut last week, implementing security features and streamlining a lot of the backend processes. The highly anticipated Beta 12 promises even more: an upgrade in transaction visibility for DVM<>EVM txs, right from block explorers. This will lead to 100% feature completion.
A humble request to the community: our core team encourages thorough testing of Beta 12. The data and feedback from this testing phase will determine how soon MetaChain graduates to become a release candidate. Curious about the roadmap? Take a peek at our informative infographic below.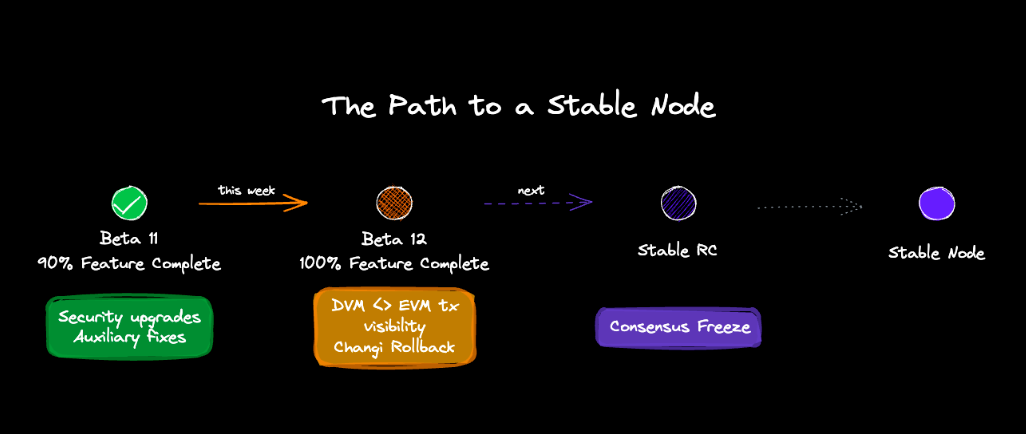 New Special DFIPs are Live
Two pivotal DFIPs are now live and up for vote:
The first aims to rebalance crypto rewards. Dive deep here.
The second DFIP proposes a staking token promotion. Get the details here.
Remember, Special DFIPs have a mere 5-day window for voting. If you're looking to understand the nuances of these proposals, there's a comprehensive talk hosted by the proposal authors here.
Update on XCHF DFIP
Congratulations to the community! The Swiss Franc (XCHF) DFIP has passed, signifying its imminent listing on DeFiChain. It proposed listing of XCHF on DeFiChain, along with DFI-XCHF and dUSD-XCHF pools on DEX. And if you're a Quantum Bridge user, the XCHF <> dXCHF token pair is heading your way, courtesy of Birthday Research ;)
DeFiChain & Galxe: Embark on New Quests
Galxe and DeFiChain's collaboration just upped its game. Embark on quests and stand a chance to own the DeFiChain Galxe NFT. Hurry, with only 5000 mints, they're bound to run out! Begin your adventure here.
Spotlight on OpenDAppsCloud
Dive into the future of decentralized companies with OpenDApps Cloud. This MetaChain project showcases how blockchain and smart contracts can redefine business models. Excited? We are too. Read more about it in our special spotlight blog.
Burn Updates: dETH -> DFI
Post special DFIP, the burn continues, and from here on it's going to be a weekly event. For those who'd like to follow it, here's your link.
In Case You Missed it
In case you missed the frenzy, here's our latest DeFiChain News Show episode discussing the DeFighters 2.0 initiative. Find out how this initiative is poised to elevate our community here:
That wraps up this week's updates! As the DeFiChain ecosystem continues its rapid evolution, we remain committed to keeping you informed and engaged. Stay tuned for another exciting week ahead, and together, let's redefine the world of decentralized finance!