Weekly Update – DeFiChain Roadmap For 2023 And More
Hi DeFiChain Community,
We're back with your weekly dose of updates from the DeFiChain ecosystem. We have some exciting developments to share, from the unveiling of our H2 2023 roadmap to notable community initiatives. Let's get into the details.
DeFiChain: 2023 Roadmap
We're delighted to reveal the planned roadmap for DeFiChain for the second half of 2023. The roadmap comprises key upgrades to our blockchain and wider ecosystem, plus a few intriguing experiments that we're eager to explore. We've mapped out our plans in the diagram below for a comprehensive overview. Stay tuned for more updates as we continue our mission to bring the power of DeFi to the wider world.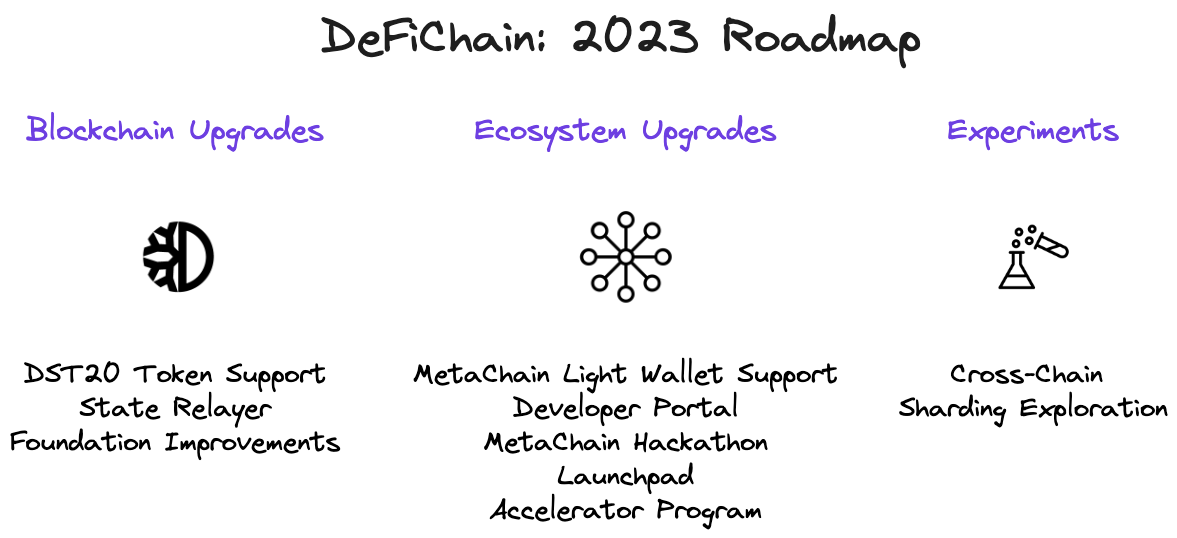 DeFiChain News Show
In case you missed it, the latest episode of the DeFiChain News Show delves into why the next half of the year is set to be an exciting period for DeFiChain. The show provides a detailed outlook for 2023, underscoring the significant strides we anticipate in our journey. Catch up on the episode here:
Notable Mentions
We'd like to highlight a recent community DFIP (DeFiChain Improvement Proposal) that has been gaining attention. The proposal suggests the listing of the Swiss Franc (xCHF) onto DeFiChain. As always, we value the input and insights of our community. We invite all of you to read the full proposal and have your say on it. Find the proposal here.
Thank you for your continued support of DeFiChain. As we embark on the journey outlined in our H2 2023 roadmap, we look forward to creating a stronger, more vibrant decentralized financial ecosystem together. Stay tuned for next week's updates!