Weekly Update – Beta 12, Special DFIPs And Perpetual Futures And More
Hi DeFiChain community!
As another week rolls by, we're thrilled to bring you the latest updates, developments, and news from the heart of our ecosystem. Let's dive right in.
MetaChain Update: Beta 12 Hits the Ground
Two days ago marked the exciting release of MetaChain's Beta 12 version. This wasn't just any release; it heralded the potential last phase of our Beta series for MetaChain, spotlighting a significant upgrade in transaction visibility for DVM <> EVM transactions. Now, these can be effortlessly monitored on block explorers, steering us towards that golden milestone: 100% feature completion.
In addition to these advancements, the release encapsulated a rollback and the introduction of a fresh snapshot. Should Beta 12 prove its stability, we're looking straight down the barrel of a Release Candidate (RC) and a consequent stable node. In simpler terms, if Beta 12 stands its ground, no further betas will shadow its trail.
New Special DFIPs Went Live
The Special DFIPs have now been activated! A top highlight is the LM pool promotion - for those with a keen eye on profits, this promises increased rewards for a limited period, boasting astonishing APRs that soar above 200%! Ready to jump in? It's all happening on the DeFiChain DEX.
For those who seek more in-depth insights:
The first DFIP is focused on crypto rewards rebalancing. Discover more about it right here.
The second DFIP proposes a staking token promotion. Dive deep into its intricacies here.
For a visual treat, don't forget to check out our detailed infographic below.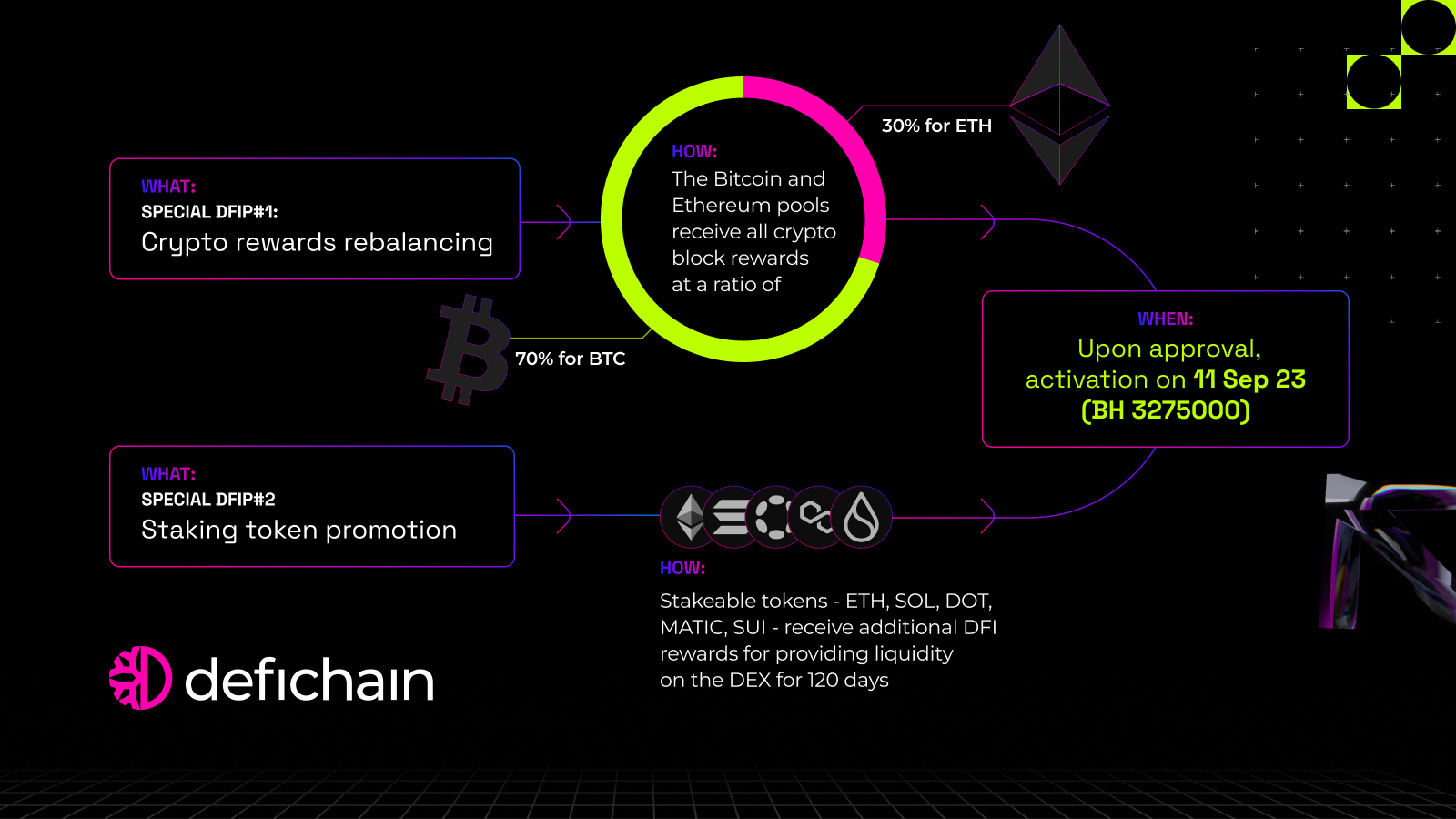 New Perpetual Futures Contract on BitMEX are live for $DFI
In a monumental stride for our community, the debut $DFI perpetual futures contract is now live on BitMEX! Traders can now engage in long/short $DFI / $USDT trades, leveraging their positions up to 4x. Eager to get started? Trade now or scrutinize the contract specs right here.
FireSide Chat with Lord Mark & Fabio
In the latest FireSide chat, Fabio, our DeFiChain sailor navigating the tumultuous crypto waters, sat down for a discussion with Lord Mark. They dove deep into the DeFiChain world, discussing its past, present, and exciting future. Catch the full conversation here:
In case you missed it
For our community members who've had a busy week, here's your quick fix to stay updated. The latest episode of the DeFiChain News Show covers the recently activated Special DFIPs, a massive step to strengthen the DeFiChain Ecosystem. Tune in now:
---
In the ever-evolving world of DeFi, our community stands strong and adaptive. Thank you for being a vital part of the DeFiChain community! The future is bright, and we're excited for what comes next. Until next week, stay tuned and stay invested!