Guide to DUSD: Earn Negative Interest of Up to -66.6% on DUSD
In TradFi, negative interest is a phenomenon that occurs when a bank or financial institution sets the nominal interest rate below 0%.
With a negative interest rate in the picture, banks and financial institutions effectively pay you to spend and take out loans - you basically earn free money to purchase your dream car or home.
The beauty of negative interest also applies to the DeFi world. In fact, if you're an active user of DeFiChain, now is a fantastic time for you to take out loans on the native stablecoin DUSD, as it's recently racked up a significant negative interest rate of up to -66.68% in February - this is a tremendous spike from -13.95% recorded at the tail-end of January.
Why is the negative interest rate on DUSD so high now?
All thanks to DFIP #245, which was recently approved by the community. Under this DFIP, a portion of the DUSD purchased by the DUSD-burn-bot will now be channeled towards increasing the negative interest rate on DUSD loans. This is part of the reason why the negative interest rate spiked from -13.95% to -66.68%.
Read on to find out how you can fully take advantage of the current negative interest rate on DUSD.
Strategies to maximize your gains with a DUSD loan
Once you've taken up a DUSD loan, there are some strategies you can deploy to augment your rewards. Below are two broad approaches you can adopt based on your risk tolerance:
If your risk appetite is low…
Take up a DUSD loan with 66% negative interest now. When you do this, you're technically paid to take up this loan. After confirming the loan, you can literally do nothing and still earn free money accumulated from the negative interest. The negative interest will only continue to accrue, so you can fully expect your rewards to multiply over time.
If your risk appetite is high…
Consider using your loaned DUSD to dabble in other DeFi investment instruments. You could try your hand at minting dStock, adding to DUSD liquidity pools, arbitraging your DUSD for a profit, or simply making further loans.
Ultimately, there is no right or wrong strategy to earn on your DUSD. Your risk appetite is not the same as the next person's, and so the strategy you adopt will differ. Regardless of the strategy you employ, just make sure that you earn enough to repay your initial loan amount!
If you're new to DeFiChain or don't own the Light Wallet, read on for a step-by-step guide on how to set things up.
Step 1: Download the DeFiChain Wallet mobile app and transfer funds into your wallet
Existing users of DeFiChain Light Wallet can proceed straight to Step 2.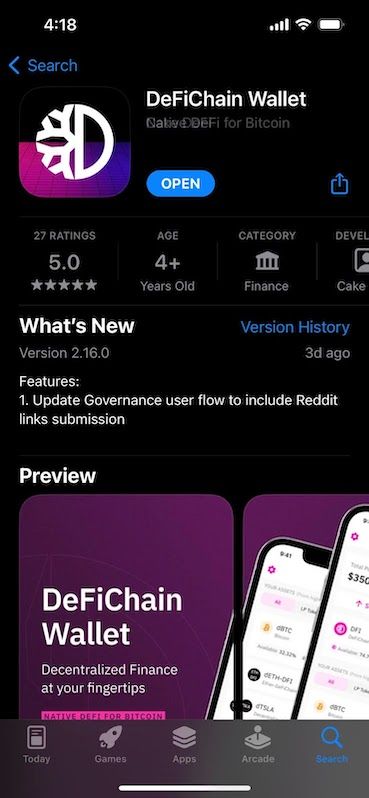 Begin by downloading and installing the most recent version of the DeFiChain Wallet mobile app.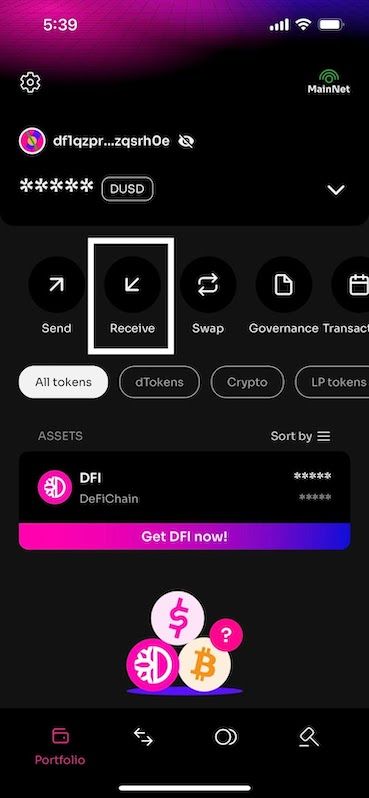 To transfer funds into your DeFiChain Wallet, start by opening the app and choosing "Receive" to obtain your DeFiChain address. Go to a DFI-supported exchange (full list here) to buy DFI and at least one other coin - this can be BTC, ETH or a stablecoin.
After buying DFI and the other token of your choice, send them to your DeFiChain Wallet address. Alternatively, if you already have existing DFI and tokens on hand, you can simply perform the transfer directly.
Step 2: Create a vault and fund it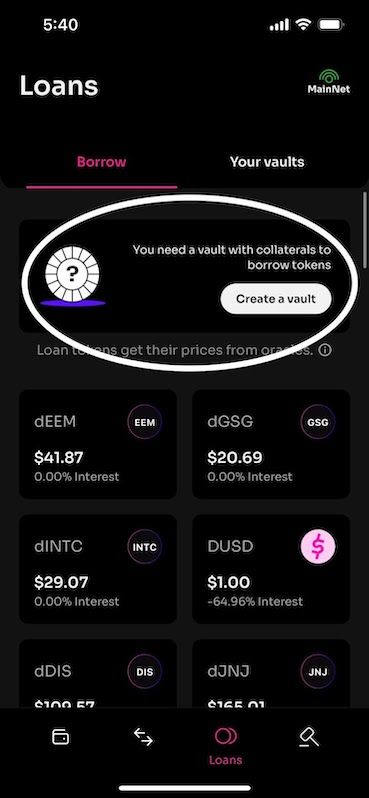 On the DeFiChain Wallet mobile app, select "Loans" > "Create a vault". To learn more about how to create a vault, add collateral, and borrow against your vault, check out this blog article.
After you've created your vault, it's time to fund it with DFI and at least one other token. Do note that at least 50% of the investment value needs to be in DFI and the remaining 50% can be in the other token.
Step 3: Take out a DUSD loan
⚠️ Before you take out a loan, always ensure that you don't exceed your collateralization ratio. For example, if you select a collateralization ratio of 150%, you must over-collateralize your loan by at least 200% to prevent your vault from being liquidated. ⚠️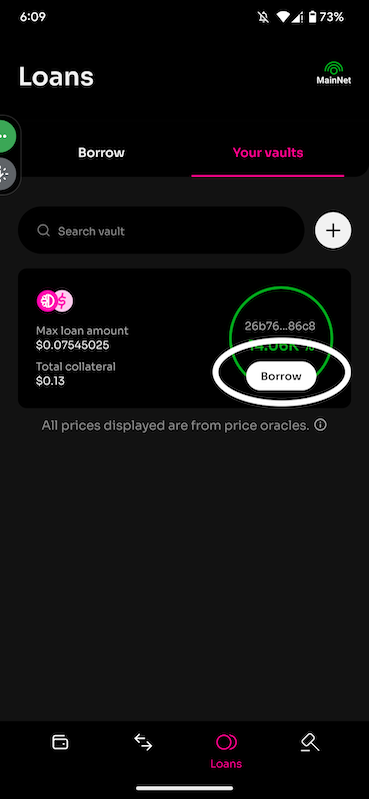 On the "Loans" screen, choose "Borrow" on your selected vault.

You should see DUSD as an option with the corresponding negative interest rate (-64.96%, accurate as of 2 Feb 2023) beneath its price.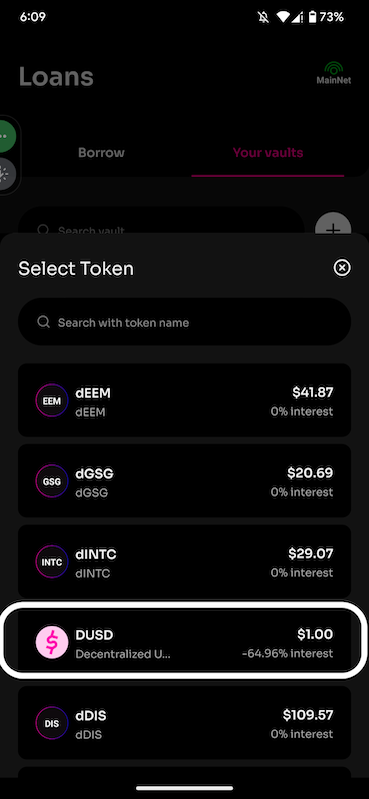 Follow the instructions prompted by Light Wallet. When your transaction successfully goes through, you're now ready to harness the benefits of the negative interest - simply leave your vault alone to work its magic~
Learn how you can earn 10%+ on your Bitcoin through a similar method in this blog article.
Get those gains from a DUSD loan today
This guide has covered the ins and outs of the phenomenal negative interest that has accrued on DUSD, and what you can do to leverage it and reap the benefits for yourself.
As a general rule of thumb, more loans taken up will reduce the negative interest rate and your overall rewards. Depending on your risk appetite, you may want to consider taking up a DUSD loan ASAP to reap maximum rewards!
Now that you're well-equipped to take up a DUSD loan, it's time for you to sally forth and get those gains from the negative interest!